Chamspy is one of the better sms tracker apps I've seen. It is easy to use and does not require configuration or rooting the target phone. All you need to do is install a hidden tracking app on the phone you want to monitor. The installation process is very clean and easy, and the total setup should take no longer than 5 minutes to complete. This app is best suited for users who want to quickly spy on an Android phone & iOS (iPhone/iPad) .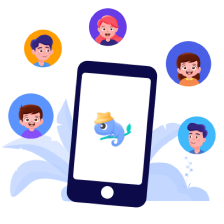 It not only allows you to spy on text messages, but offers a range of other useful features such as:
Record all outbound and received calls and uploads them to your account. View the apps installed as well as any photos and videos taken with the phone. Monitor and track web activity including website history. View the details in the cell phone's contacts file. Monitor all inbound and outbound emails. Track your target's location via GPS Monitor Instant Messengers: WhatsApp, Facebook, Skype, BBM, Instagram, Twitter, and more. Stealth Camera: Take pictures remotely from your control panel without the device user ever knowing. 100% Undetectable! Spy on their cell phone without them knowing.
Chamspy charges a one-time fee of $69.99 (includes free updates), rather than an annual recurring fee. Unfortunately, it does not offer a free trial, but they do offer a 30 day money back guarantee. With so many advanced features, and an affordable price, you really can't go wrong! I highly recommend giving it a try.
Once you've purchased the software, an email will be sent to you with your username, password, license and installation instructions. Simply download the app onto the target phone, and then enter your license key to activate it. Once you've completed these steps, you're ready to start monitoring.
Price: $59.99 USD, one-time payment, lifetime license with no recurring fees. Supported: Android smartphones & iOS (iPhone/iPad) & tablets Visit
mSpy (Best SMS Tracker for iPhone and iPad – No Jailbreak Required)
If you need an SMS tracker for iPhone without jailbreaking the device, consider mSpy. This program lets you spy on text messages without any spy app to download and without jailbreaking your Apple device.
The way it works is simple: You'll need the mobile user's iCloud information (apple ID and password) and make sure "iCloud Backup" is turned ON (On your iOS device: Go to Settings > iCloud > Backup, then turn on iCloud Backup). Next, you will need to login to your web-based mspy account and enter the iCloud user/pass of the Apple device you wish to monitor.
Once set up, you will know what they are doing on iPhone/iPad from your mSpy account. I like the mspy app for iPhone because it is completely undetectable, never worry about the user finding out that they are being monitored.
The mSpy no jailbreak solution has the following monitoring features:
Instant Messaging. Monitor the popular messaging apps including WhatsApp, Skype, LINE and iMessage. SMS tracking. Track and view all incoming and outgoing text messages. This includes deleted texts. Call History. Monitor all incoming and outgoing phone calls, including the phone number, contact name (if applicable), and time of call. Browser history. View all web activity on a monitored iPhone or iPad. Contacts. View their contact numbers saved on the iPhone. Notes. See their notes saved on the iPhone or iPad.
You'll find that when it comes to monitoring a non-jailbroken iPhone or iPad, mSpy is more effective than any other leading brand.
As of right now, mSpy currently offers three different packages on a pay-per-month basis. The current packages available are Basic, Premium, and Business. While each package can be suitable depending on your current situation, for the price you pay per subscription plan, the Premium would definitely be your best option.
Price: Free online demo, $30 – $200 USD Supported: iPhone, iPad, Android, Windows and Mac Visit Site: http://www.mspy.com
FlexiSPY (Best SMS Spy App for iPhone – Requires Jailbreaking)
FlexiSPY is by far the best SMS spy app for jailbroken iPhone and iPad. It is easy to set up, packed full of the most advanced monitoring features, and comes with 24/7 online support. Being with your child all the time is not possible, but FlexiSPY makes it easy for you to watch over them when you are not around.
Please note that Jailbreaking is required to install this application. If you don't want to jailbreak your iOS device, but still want to spy on text messages, you can always use mSpy.
Here are some of the features that you will find in FlexiSPY:
Secretly track all incoming/outgoing SMS and MMS messages even if they were deleted from the phone. Monitor other instant messaging apps: WhatsApp, Facebook / FB Messenger, BBM, LINE, Snapchat, Viber, Skype, and more. Track your target in real time on a map so you can see where they are, and track their location history. Intercept and listen to live phone calls. The target phone will not know that you are listening in. Remotely record all incoming and outgoing phone calls. Remotely open the target phone's microphone and listen to their phone surroundings. Read the full content of iMessages sent and received on the monitored iPhone or iPad. View all Photos, Video and Audio stored on the phone. Keep tabs on their website browser history and bookmarked sites. View mobile phone's address book, notes and calendars Record and view every keystroke typed (including passwords, chats, etc.) on the monitored phone.
Once you have purchased the FlexiSPY software you will need to access the mobile device that you wish to monitor. This will be the only time that you will have to have access to the monitored device. Follow all the steps to ensure that the software is installed properly.
Once this process is complete, spying will begin instantly. All monitored activity will be logged and sent to your secure control panel area which you can access at any time from any computer. What's more, FlexiSPY runs in stealth mode, so the monitored user will never know they are being spied on. This will help you get the true view of what activity they are engaging in.
FlexiSPY is compatible with a wide range of cell phone platforms: Android, Apple iOS (iPhone/iPad), BlackBerry, and Symbian.
Price: Try the free demo before you buy; The premium version is $149 per year; the extreme version is $349 per year. 10 day money back guarantee. (If they can't get the software to work on your phone.) Visit Site: http://www.flexispy.com
Mobistealth (Best SMS Spy App for Blackberry)
Another easy to use sms tracker is Mobistealth. As the name suggests, it is a stealth mobile spy software. Mobistealth has been producing spy software since 2009. They made a spy app that can be installed on most BlackBerry devices. If you want to spy on someone's Blackberry phone without them knowing, this app is an excellent choice.
Here are some key features of Mobistealth:
Track all BBM chats: Mobistealth is one of the very few sms spy software that allow you to track BBM chats. You will get to see both sides of the conversation, which means whatever that is being said on BBM, you'll be able to see everything they talk about – even if they immediately delete the messages. Spy on SMS: Mobistealth allows you to spy on text message sent from or received by the monitored blackberry phone. Read Emails: With this feature, you can read both incoming and outgoing emails on the monitored blackberry phone. View Photos: View all photos taken and stored on a monitored blackberry phone. GPS tracking: remotely track the location of their blackberry phone via the mobistealth web-based control panel. View Call History: Mobistealth lets you see all the phone calls made and received on the blackberry phone, including time, date, and the phone numbers.
Mobistealth works just like most sms spy apps. First, the app needs to be downloaded and installed on the blackberry device. The installation process is fairly straightforward; but you will need to physically access the device before you can install the app.
Price: free demo, priced at $27 per month or $150 per year. Supported: all blackberry phones running on blackberry OS version 5.0 to 7.1. Visit Site: http://www.mobistealth.com
Gizmoquip SMS Tracker
This is one of the most popular SMS spying apps available on the Google Play Store. You will need to install the app directly on the Android phone that you want to track (not your own). If you need to be discreet about your tracking, I recommend that you use their completely hidden version, which is called System Health and is only available from Gizmoquip's download page.
During the installation, you will be asked for an email address and password that will be used to link the device to your online account on smstrackerweb.com. From there, you can remotely monitor the phone's SMS, MMS, browser, call logs and location data.
I've tried the Gizmoquip SMS tracker app on my phone (Google Nexus 5) and it works good, but it is a very basic application. For example, it cannot track mobile instant messaging apps such as WhatsApp or Skype. Personally I prefer Highster Mobile as it has more features and the price is very competitive.
Price: Free to download, $10.95 per month or $65.70 per year. Supported: Gizmoquip available for Android devices only and requires Android 2.2 and above. Visit Site: http://www.smstracker.com